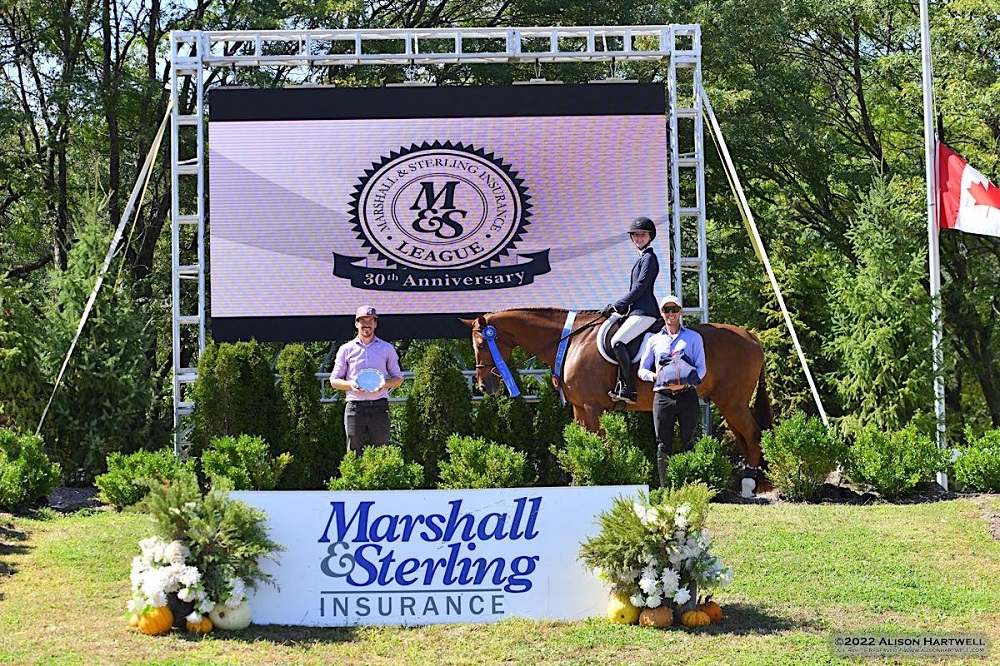 Credit: Alison Hartwell
Lamplight Fall Classic with M&S Insurance
---
The Lamplight Fall Classic took center stage at HITS Chicago as the 2022 show season came to a close with the Marshall & Sterling (M&S) Insurance League Finals Midwest, the USHJA Zone 5 Horse of the Year (HOTY) Championships, the $25,000 HITS Grand Prix and the $2,500 USHJA National Hunter Derby.
Sinead Fennelly took home two winning titles with Viktor N on Sunday, topping the M&S Junior/Amateur Horsemanship Medal Final and the HOTY Junior/Amateur-Owner Hunter Classic. "Viktor felt amazing today," she expressed. "I usually just do the Junior Hunters on him, but I did the medal class today on him too and he was so good. I did the Marshall & Sterling medal last year too, and I think it really preps people for Indoors, especially this medal because there's a flat phase. I really loved the courses today and it was just so much fun!"
The Marshall & Sterling Insurance League Finals Midwest featured jumper competition as well, with Sophie Kassel piloting Rincoola Spice to victory in the M&S High Child/Adult Jumper Final with a double clear performance.
"I really liked the course today," noted Kassel. "I thought the jump-off looked really fun and my trainers and I were able to come up with a really good plan for it. My horse was really good and she jumped really great for me today. It was super exciting to finish on such a high note for our last show at Lamplight."
Kassel rides with her mother, Katie Kappler, and Sunday was a family affair with her sister Sasha Kassel winning the M&S Modified Child/Adult Jumper Final aboard Carapaccio. "I was really happy with my round," commented Sasha. "I was able to finish on a really strong round. I'm really thankful for this opportunity, for a good weekend and for my training."
On Saturday, the $25,000 HITS Grand Prix highlighted competition in the Grand Prix Stadium, with a four-horse jump-off and three double clear efforts. Caelinn Leahy and Zarkava were the last to return and the best of the day, crossing the finish line in a faultless 32.33 seconds to claim the victory. Cormac Hanley and Honneur T&L Z were close in a clear 33.59 seconds for second place, while Thomas Cerra and Incredible Loma rounded out the top three.
"Zarkava is super," said Leahy. "We've had her for several years now and it's definitely been a long partnership in the making, but she's an awesome competitor and wants to go in every time and do her job."
Leahy added, "Lamplight was the first 'A' show I ever went to, so it holds a very special place in my heart. It's great to have such an awesome venue in our backyard. My horses love jumping in the grand prix ring and I love showing at Lamplight!"
The main event on Friday was the $2,500 USHJA National Hunter Derby, where Ryan Sassmannshausen claimed another victory with his veteran mount Rosalita. Ashleen Lee placed second with Soho, while Sassmannshausen also earned the third-place award with Bisous.