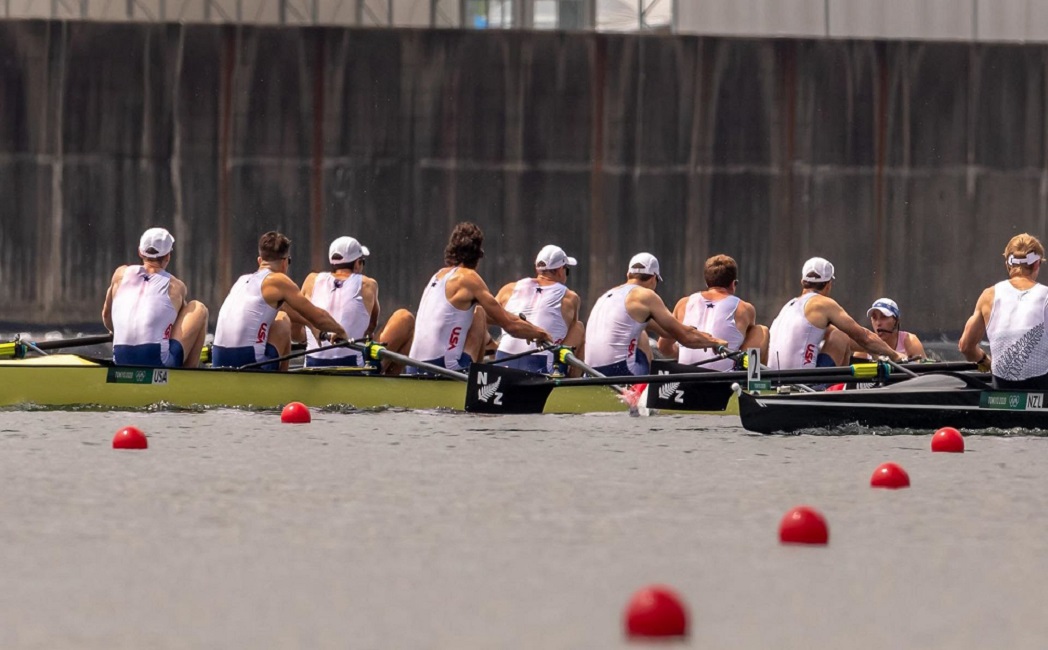 Credit: ICF
Fourth Place for US Men & Women Rowers in Tokyo
---
Both the men's and women's eights came up just short of the medal stand on Friday, finishing fourth in their respective finals at the Sea Forest Waterway at the Olympic Games Tokyo 2020.

The men's eight of coxswain Julian Venonsky (Malvern, Pa./University of California, Berkeley), Liam Corrigan (Old Lyme, Conn./Harvard University), Conor Harrity (Weston, Mass./Harvard University), Nick Mead (Strafford, Pa./Princeton University), Alexander Richards (Watertown, Mass./Harvard University), two-time Olympian Austin Hack (Old Lyme, Conn./Stanford University), Alex Miklasevich (Pittsburgh, Pa./Brown University), Justin Best (Kennett Square, Pa./Drexel University), and Ben Davison (Inverness, Fla./University of Washington) missed a medal by just over a second.

"I'm proud of what we did. I'm proud of our team and proud of our boat. I'm proud of our coaches, Tim McLaren and Mike Teti, our entire staff," Venonsky said. "We had a good piece. We're up against five of the fastest boats in the world, and this is the tip-top stage. So, it's disappointing. Obviously, we'd like to medal. You would like to win gold. It stings; it always does. But looking back, we're proud of what we did. We're excited to represent the United States, and we're happy with how we performed."

Germany, Great Britain and New Zealand jumped to the head of the field in the first 500 meters, with New Zealand inching its bowball ahead at the midway point in what was virtually a dead heat. New Zealand began to pull away during the third 500, as the U.S. closed the gap on third to less than a quarter-second entering the final 500 meters. However, Germany and Great Britain were able to respond to the challenge and hold on for medals. New Zealand won the race in a 5:24.64, with Germany coming back to take silver in a 5:25.60. Great Britain finished 0.13 second back to win the bronze in a 5:25.73. The U.S. finished with a time of 5:26.75.

"From my perspective, especially coming from the start of this quadrennial in 2017, I think this group – it's so young. It has so much potential that I'm excited to see (what happens)," Venonsky said. "We only have three years until the next one, to where we see where this program goes, because I have the utmost confidence in them. I'm just so excited to see guys like Liam, like Justin, just keep progressing and keep improving at the trajectory they are (on). They are the best rowers I've ever had the pleasure of being on a team with."

The U.S. women's eight of coxswain Katelin Guregian (Detroit, Mich./University of Washington), Kristine O'Brien (Massapequa Park, N.Y./University of Virginia), Meghan Musnicki (Naples, N.Y./Ithaca College), Regina Salmons (Methuen, Mass./University of Pennsylvania), Olivia Coffey (Watkins Glen, N.Y./Harvard University), Brooke Mooney (Keene Valley, N.Y./University of Washington), Gia Doonan (Rochester, Mass./University of Texas), Charlotte Buck (Nyack, N.Y./Columbia University), and Jessica Thoennes (Highlands Ranch, Colo./University of Washington) also finished fourth in the final.

"I don't think there's anything that would have changed the effort that we put out there, the drive that we put in, how hard we trained for the last five years," said Musnicki on if anything could have been done differently to change today's outcome. "All nine of us put it all out there today, and I'm very proud of that."

Canada jumped out to the early lead ahead of Australia and continued to extend their advantage through the midway point. New Zealand pulled into second position during the third 500 meters, with China and the U.S. moving through Australia. In the final quarter of the race, China was able to put on a strong sprint, clocking the fastest final 500-meter split to claim the bronze medal. Canada won gold in a 5:59.13, with New Zealand finishing less than a second behind in the silver-medal position in a 6:00.04. China crossed the line in a 6:01.21. The U.S. finished with a time of 6:02.78.

"I am deeply, deeply proud of myself and my teammates and my coaches, and the women that aren't in my boat – that are back home and that are here at this regatta (in other boats)," Guregian said. "To get here took an inordinate amount of effort and belief in ourselves and each other. And, I have said this to the group. I would do the whole five years over again, even knowing what the result would be. That's how much these women mean to me; that's how much lining up at the Olympics with these eight, strong, independent, incredible women means to me. It's the honor of my lifetime, and I wouldn't give it up for anything."

In the B final of the women's single sculls, two-time Olympian Kara Kohler (Clayton, Calif./University of California, Berkeley) crossed the line in third to finish ninth overall. Kohler and The Netherlands' Anna Sarah Sophie Souwer jumped out to the early lead, with Souwer holding about a deck lead at the midway point. Souwer and Kohler continued to battle each other during the third 500 meters, with the Dutch sculler extending her advantage as the duo entered the final quarter of the race. Souwer was then able to pull away from the American. Canada's Carling Zeeman put on a big sprint over the final 500 meters to catch Kohler at the line. Souwer finished first win a time of 7:25.96. Zeeman finished 3.63 seconds back in a 7:29.59, with Kohler crossing in a 7:29.72.

"I've just learned that you have to take it step-by-step," said Kohler on what's she's learned in the nine years between her Olympic experiences. "Your goals aren't going to come in a linear form. From Cal, we always said, 'Don't let the highs get too high or the lows get too low,' so now is a really good opportunity for me to implement that, to not let myself get too down and have perspective. It's been nine years since I made my first Olympic team and then I didn't make Rio, and that was a huge upset, and so the past five years have been all about resiliency and taking it step-by-step and not getting too far ahead of myself."

Unfortunately for the U.S. squad, today's racing concluded a disappointing regatta that saw Team USA miss the medal stand in Tokyo.

"With the conclusion of our competition here in Tokyo, I'm devastated for our athletes and staff who have trained and competed so hard for the last 16 months since the postponement of the Olympic Games in 2020," said Matt Imes, USRowing's High Performance Director. "We obviously hoped to achieve better overall results. As an organization, we have already started the process of reviewing our national team programs, which will include feedback and analysis from this Games. USRowing is committed to making the necessary changes to provide our athletes with the best possible structure and environment to achieve success in Paris 2024 and beyond."