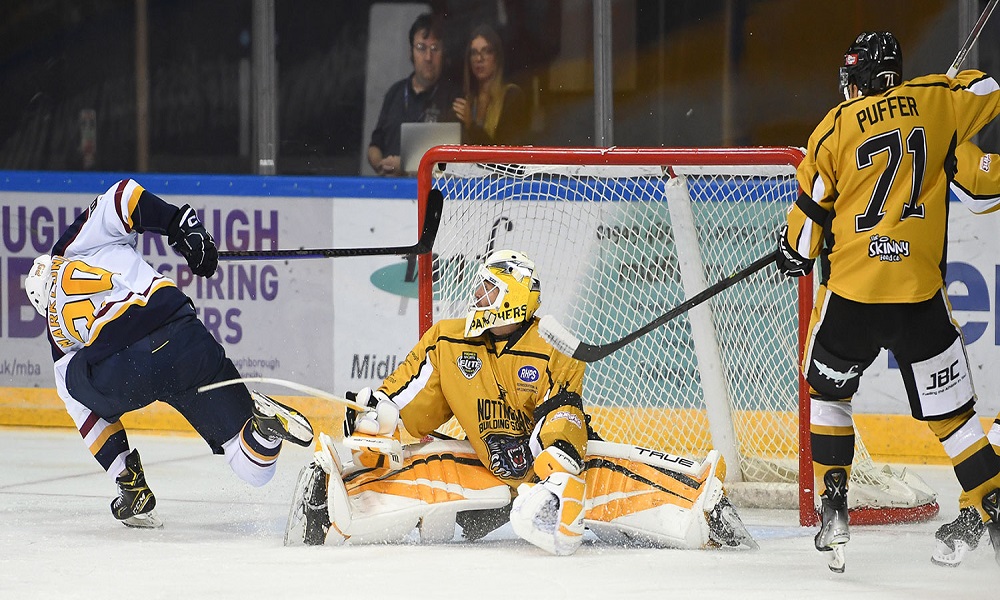 Credit: John Uwins
Flames fall in OT
---
Flames secured a league starting table point, but lost a lead 69 seconds from time before an early overtime Nottingham Panthers goal delivered a 4-3 defeat of the visitors from Surrey.
Sam Marklund got Flames off to an early start when he put them on the board at 2:32 with the only goal either club would find in the opening set.
In the 27th minute, Panthers levelled through Tanner Sorenson. Adam Brady nudged them in front at 35:43 but Ryan Tait's first of the season less than 2 minutes from period time had the teams all square at the break.
Just under 4 minutes into the 3rd, Peter Crinella set Flames to a lead once again and they nursed the advantage into the late stages. Panthers pulled their netminder in favour of an extra skater and it paid off with the home team knotting it at 3 each through Andrew Johnston to share a point each ahead of overtime before Mike Hammond made the difference just 28 seconds into the 3 on 3 deciding 4th frame.
Eamon McAdam at the Flames end made 34 stops on 38 shots while Luca Sheldon was 21 of 24 for Panthers.
"We are pretty comfortable to open the season at least with a point on the road against a top side like Panthers, but it stings a bit having held the lead so late and then striking out on the extra point so early into OT."
"We did a lot of good things but as you might expect some things to keep looking at going forward to try and keep improving."
"We will head home and look to make some adjustments and see if we can get a slightly better result against another top team with Steelers in town Sunday night."